Integrates your business processes securely and reliably
ERP that manages backoffice processes , in an integrated way and in a single database, with analytical and transactional information in real time. Thanks to the database that processes information in memory.
SAP S/4HANA (ERP)
Deliver the best customer experience through the digital core for the intelligent enterprise. Adapt and scale agilely and stay ahead of constant market changes with SAP S/4HANA:
Connect to SAP in the cloud: SAP S/4HANA with RISE

Get an on premise system in your own data center
RISE WITH SAP
Propel yourself onto the path of the intelligent enterprise with RISE with SAP, which offers you in a single contract: SAP S/4HANA + infrastructure + support services for your digital business transformation. Compatible with lines of business:
Advanced Treasury and Maintenance Management

Human Resources, Advanced Manufacturing, R&D and Engineering

Customer Experience, Procurement and Contract Management, Analytics and Data Management
SYBDIGITAL SHRIMPER
This new product, developed by Sybven, enables the control and monitoring of the shrimp life cycle, from manufacturing to distribution. It has unique predictive analytics capabilities, drives the growth of new digital services and controls operating costs. The efficiency of digital transformation has no limits!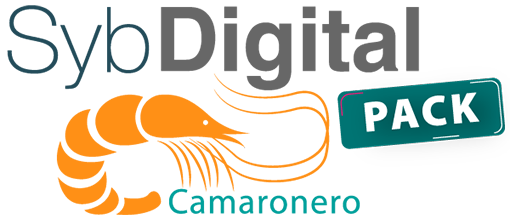 If you want to ride the digital wave, write to us because... It's in our blood! We have for you: services and technological solutions based on the magic of digital innovation.
We excel in process automation and the use of intelligent technologies to enhance the customer experience. We make it easy. We make it possible. We make it Sybven.