Integra tus procesos de negocio de forma segura y confiable
ERP que gestiona procesos de backoffice, de forma integrada y en una única base de datos, con información analítica y transaccional en tiempo real. Gracias a la base de datos que procesa información en memoria.
SAP S/4HANA (ERP)
Brinda la mejor experiencia a tus clientes a través del core digital para la empresa inteligente. Adáptate y escala ágilmente y mantente a la vanguardia de los cambios constantes del mercado, con SAP S/4HANA:
Conéctate a SAP en la nube: SAP S/4HANA with RISE

Obtén un sistema on premise en tu propio centro de datos
RISE WITH SAP
Impúlsate hacia el camino de la empresa inteligente con RISE with SAP, que te ofrece en un único contrato: SAP S/4HANA + infraestructura + servicios de soporte para tu transformación digital empresarial. Compatible con las líneas de negocios:
Gestión de Mantenimiento y Tesorería Avanzada

Recursos Humanos, Manufactura Avanzada, R&D e Ingeniería

Customer Experience, Gestión de Abastecimientos y Contratos, Gestión de Analíticas y datos
SAP BUSINESS TECHNOLOGY PLATFORM
SAP BTP es una plataforma de grandes capacidades, herramientas y soluciones para llevar tu planificación organizacional a la nube, agrupando datos, analítica, inteligencia artificial, desarrollo de apps y la automatización e integración en un único entorno. Con ella, puedes:  
Personalizar experiencias para aplicaciones de SAP

Innovar más rápido con contexto de negocio

Operar en una plataforma confiable de nivel empresarial

Construir aplicaciones.
SAP CONCUR
Al automatizar los procesos de gastos, tu negocio puede funcionar de forma eficiente en cualquier lugar, en cualquier momento y bajo cualquier circunstancia.
Proporcionamos a tu compañía el poder de automatizar, conectar y simplificar los procesos de gastos, viajes y CP.
SYBDIGITAL CAMARONERO
Este nuevo producto desarrollado por Sybven, permite el control y monitoreo del ciclo de vida del camarón, desde la fabricación hasta la distribución. Cuenta con capacidad única de análisis predictivo, impulsa el crecimiento de los nuevos servicios digitales y controla los costos operativos. ¡La eficacia de la transformación digital no tiene límites!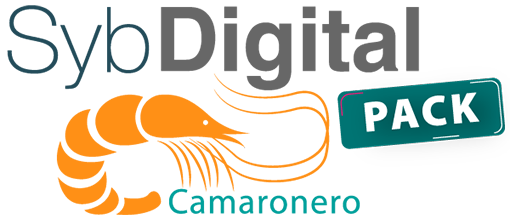 If you want to ride the digital wave, write to us because... It's in our blood! We have for you: services and technological solutions based on the magic of digital innovation.
We excel in process automation and the use of intelligent technologies to enhance the customer experience. We make it easy. We make it possible. We make it Sybven.