Sybven receives "Conindustria Merit for Work 2022 Award".
En el marco de la celebración del Día de la Industria, en el evento Congreso Conindustria 2022, llevado a cabo este jueves 21 de julio en Caracas, Sybven; la empresa multinacional, líder en transformación digital y soluciones tecnológicas; se alzó con la distinción "Reconocimiento Conindustria Mérito al Trabajo 2022".
Este destacado galardón es entregado a los trabajadores de una empresa que poseen una larga trayectoria, y que, desde su talento, han brindado valiosos aportes para hacerla más productiva.
En esta ocasión, Anna De Luca, líder de la Célula de Innovación Social, de Sybven, fue la condecorada con este reconocimiento por Conindustria (Confederación Venezolana de Industriales). Durante más de 18 años de trayectoria profesional en Sybven, ha trabajado en pro del crecimiento de la organización, impulsando la motivación de los equipos multidisciplinarios y enriqueciendo la cultura con su vocación de servicio y estudios profesionales de coaching, ciencias naturales y sociales.
"Me siento muy honrada por haber recibido este reconocimiento que marca una era de éxito, que me motiva a continuar trabajando y desarrollando mis habilidades profesionales y personales para, cada día, ser una mejor líder. Estoy muy agradecida y orgullosa de contar con un equipo de profesionales de alto desempeño. Este logro no solo me pertenece a mí, sino a toda la familia SybTeams, que me acompaña y apoya a conquistar los retos que nos hemos propuesto", declaró Anna De Luca.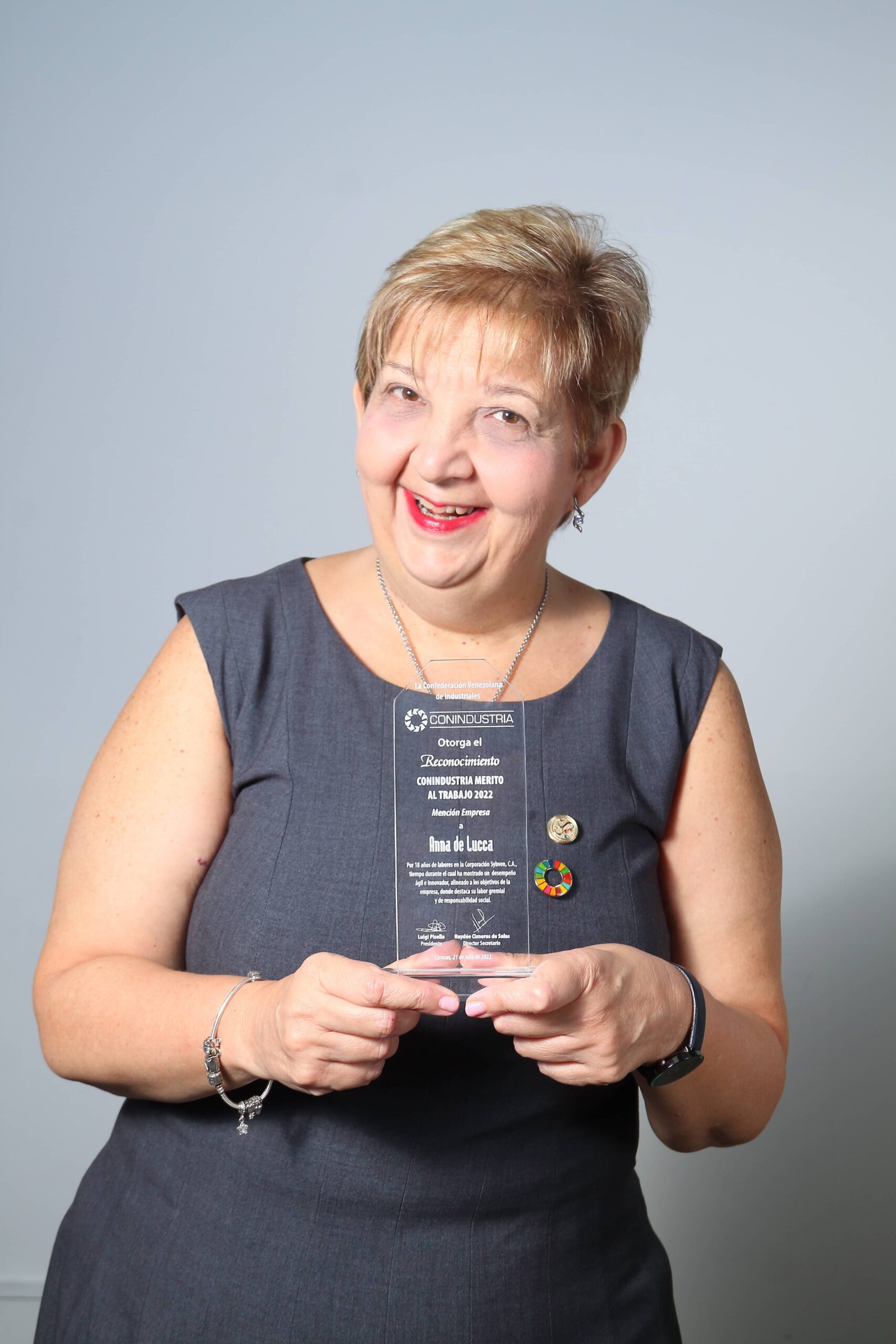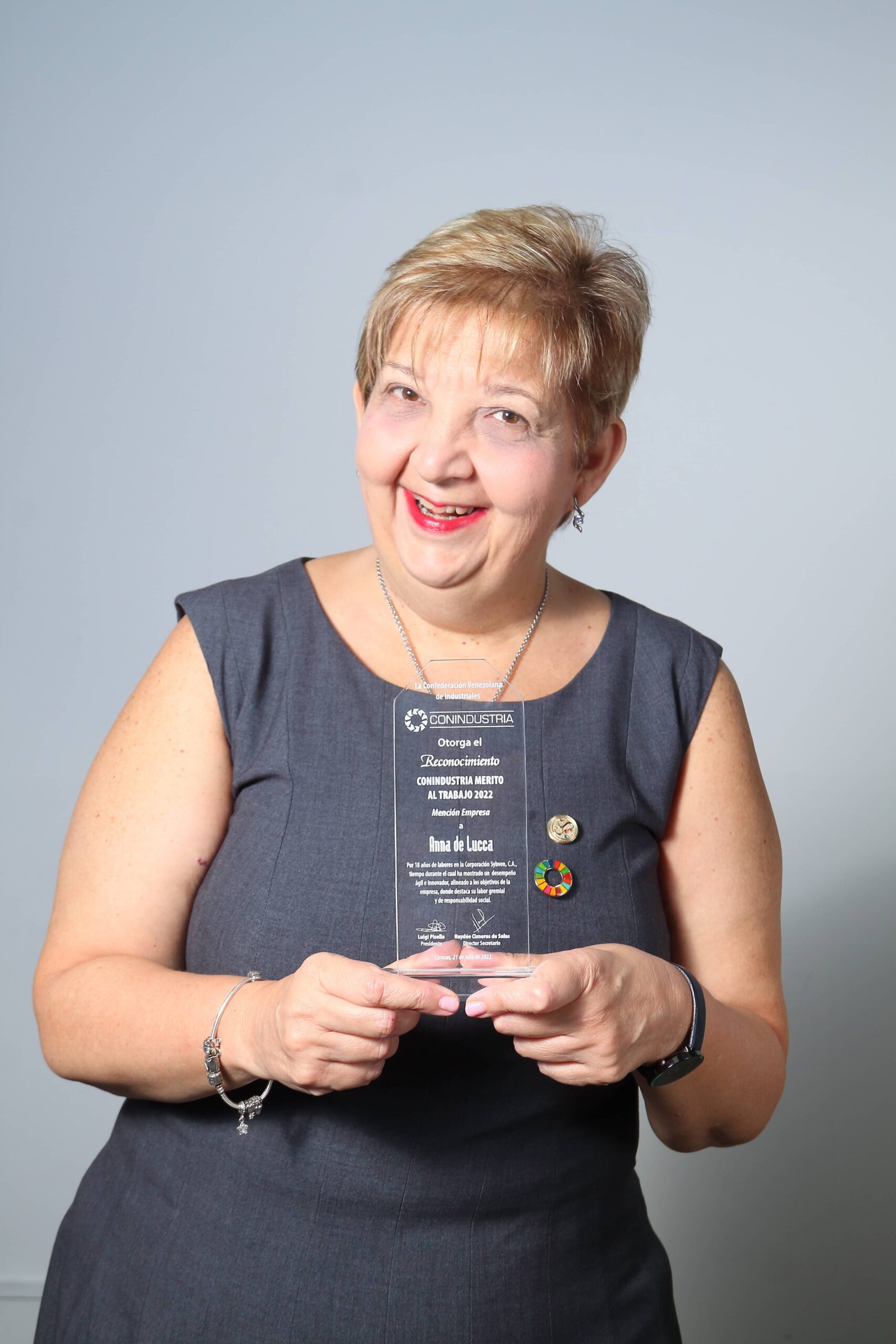 Multifacética, voluntaria y líder.
En la trayectoria profesional de Anna De Luca, destaca su constante deseo de superación, su interés en la formación profesional y mejorar su desempeño alineado a los objetivos de la empresa.
Trabaja activamente en diferentes ONG nacionales como voluntaria y miembro directivo, realizando proyectos innovadores en marcos de trabajo ágiles, para fortalecer a estas organizaciones sociales y comunitarias venezolanas, a través de iniciativas académicas y de formación.
Asimismo, es la embajadora de Sybven en gremios nacionales e internacionales, representante de Cavedatos (Cámara Venezolana de las Tecnologías de Información) ante Conindustria y otros Gremios, además, es uno de los miembros fundadores del primer Clúster de Innovación y Tecnologías de Información en Venezuela (CiTICven), y promueve diversas actividades en modalidades de co-competencia para el sector tecnológico.
Sin dudas, para Sybven, Anna De Luca es un modelo positivo, comprometido con el crecimiento de las nuevas generaciones de equipos y ejemplo a seguir que incide en la cultura y la calidad de vida laboral de todos los colaboradores.
Enjoy our exclusive content and join the new digital era. In your email you will receive 100% of the best and 0% spam.
Go digital with Sybven!