Conecta con tus clientes en tiempo real y de forma automatizada
Logra comunicaciones masivas totalmente automatizadas y en tiempo real. Conecta con tus clientes de forma eficaz y oportuna, a través de emails, SMS enriquecido, llamadas, páginas de destino y mensajes push creativos. Todo esto, por medio de flujos inteligentes. ¡Tu transformación digital
está aquí!
DANAConnect
Con su alta tecnología, esta solución innovadora, automatiza tus procesos comunicacionales, para facilitar y simplificar las interacciones diarias, cultivando clientes más felices y satisfechos.
Explora las automatizaciones disponibles para todo el Customer Journey 100% digital de tu negocio: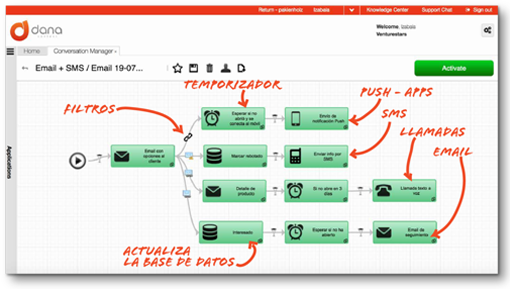 SAP Marketing Cloud
Con Marketing Cloud logras que tus campañas sean exitosas, aumentando las interacciones de leads, y desarrollando una visión única de tus clientes.  También podrás implementar información valiosa para tomar decisiones inteligentes. ¡Vive la transformación digital, aumentando tus ventas!
If you want to ride the digital wave, write to us because... It's in our blood! We have for you: services and technological solutions based on the magic of digital innovation.
We excel in process automation and the use of intelligent technologies to enhance the customer experience. We make it easy. We make it possible. We make it Sybven.